GpuHub_Sync
GpuHub_Sync is a free data transfer application developed by iRender. This application enables you to transfer files easily from your personal computer to the iRender servers with data storage up to Terabytes. Even when the remote server is off, you can still use this application, which saves your money considerably.
Note
We are launching an upgrade called
iRender Drive
for Windows OS based on Gpuhub-sync application. iRender Drive can massively improve the customer experience: easier, faster, and more effective.
Watch the tutorial video below or read the following instructions:
Download GpuHub_Sync
1. On the top right of the iRender dashboard, choose Downloads.
2. The iRender software page displays 3 installers of GpuHub_Sync based on different operating systems. Select one of them and download.
Windows 10/8.1/8/7 with 32 or 64 bit.

macOS Catalina or later.

Ubuntu 18.04 or later.
Note
For macOS users, if you cannot install GpuHub_Sync, read 
this article
to solve the problem.
Install GpuHub_Sync
While installing GpuHub_Sync, Windows protected your PC tab may appear. Choose More info, then choose Run anyway.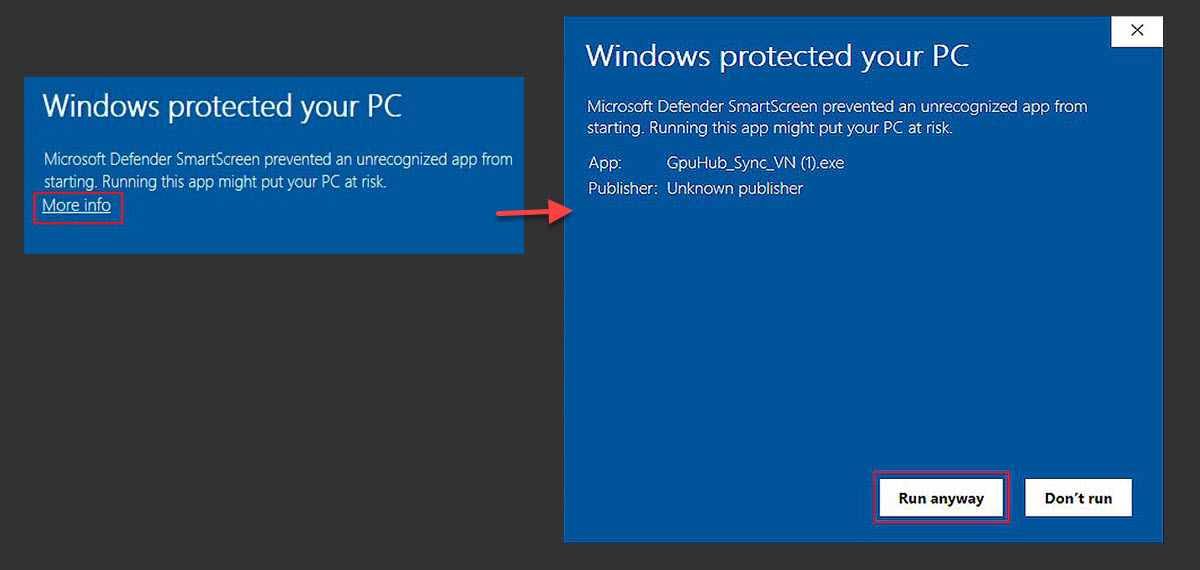 How to use GpuHub_Sync
1. Sign in GpuHub_Sync with your iRender credentials.
2. Select the region closest to you which affects the transfer file speed.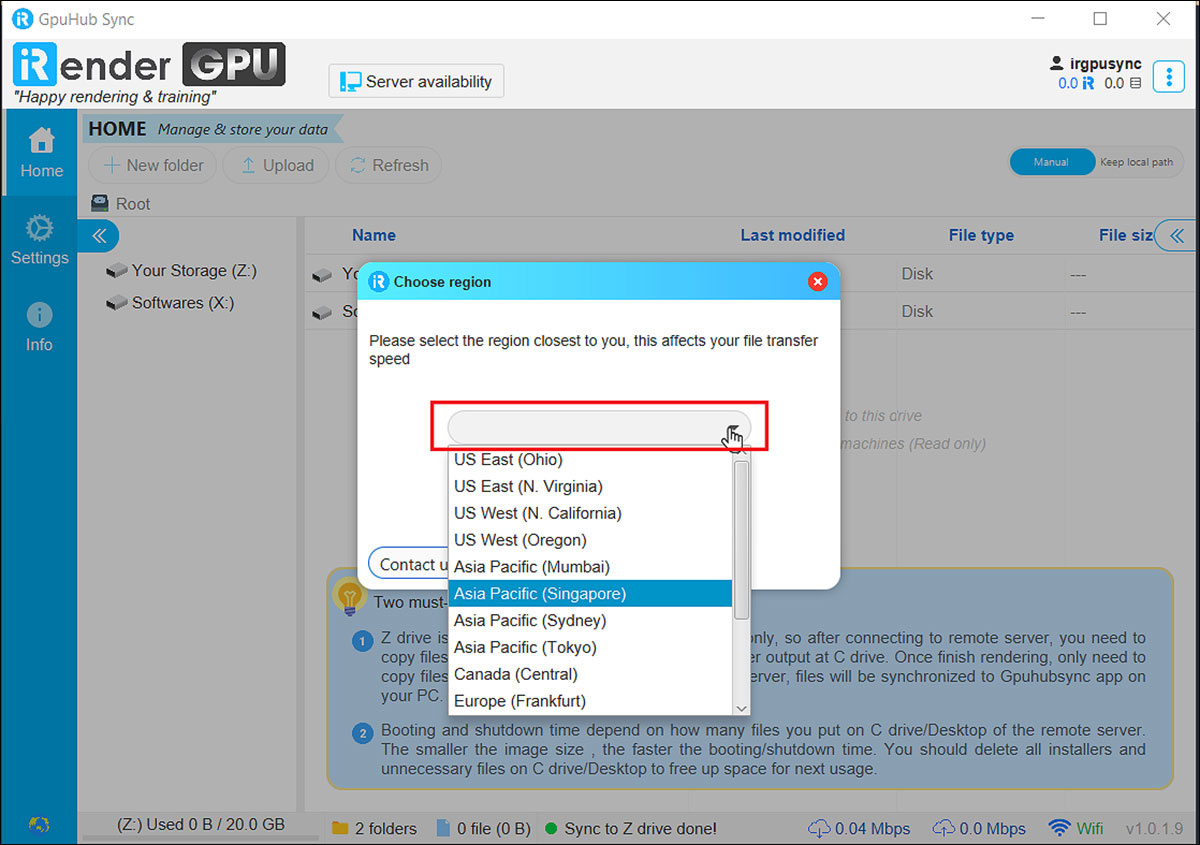 3, Upload files by choosing Upload or just using Drag & Drop files.
Note
You can check the sync process by clicking the Syncing at the vertical bar on the left side. Syncing shows that the folder is being synced to Z drive. Synced means the sync process is done. To save your money, you should boot the image after your data is synced.

All files in GpuHub_Sync will be automatically synced with Z drive at any iRender servers you use. 

With a huge amount of data, compressing folders in .zip format before uploading them to GpuHub_sync or even downloading results.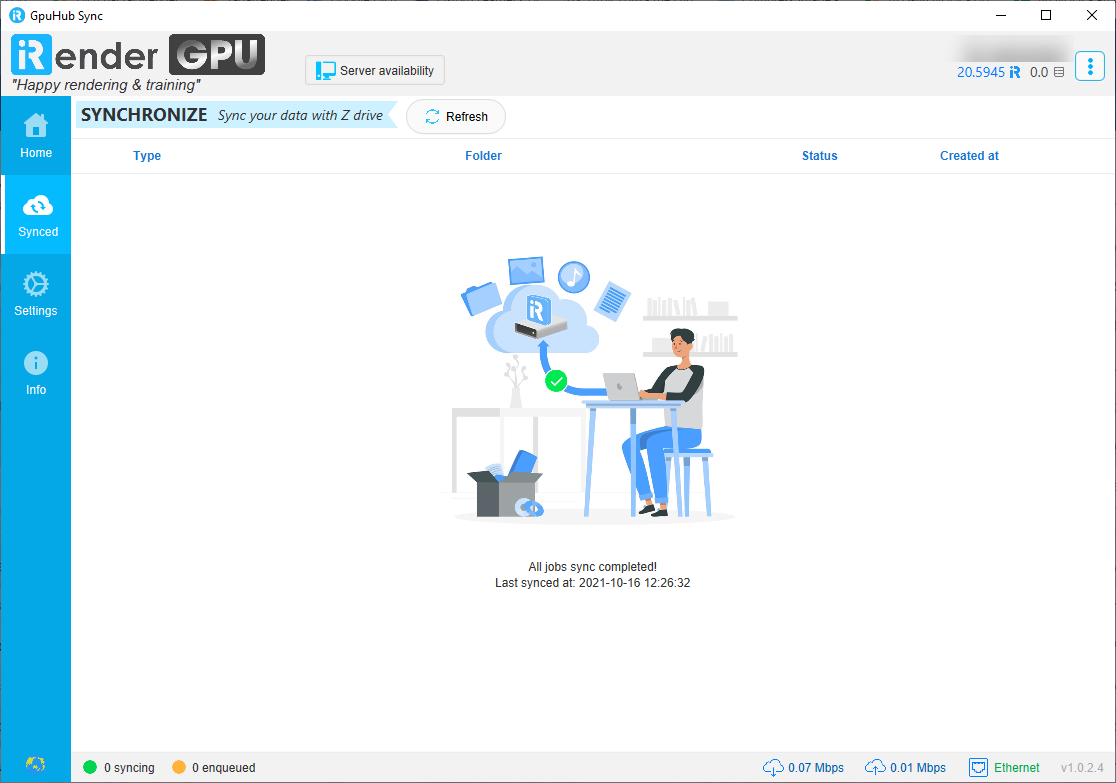 4. Download files after rendering as described in the Get results step.
Tip
Compressing files in .zip format before downloading the files.
Removing redundant files to free up the space of the GpuHub_Sync/Z drive.
Read more tips for GpuHub_Sync here.
Feature: Manual vs Keep Local Path
The Manual function is to upload files that will be under the current directory on GpuHub_Sync.
The Keep Local Path function allows our system to automatically create a directory on GpuHub_Sync and Z drive that is the same as the root directory on your PC.
Let's take an example for Keep local path function. When you upload a file from C:/Documents/Render/, our system then creates a directory on GpuHub_Sync and Z drive like this Z:/C/Documents/Render/.
See more
---